Summary: Cemex (CX) has reduced debt and increased profitability enabling a healthier balance sheet. USD exposure is manageable given the higher returns in the US business. Insufficient capacity for competitors in Mexico has allowed CX to regain a portion of the market share lost in recent times as cement volumes increased 12% YoY vs. the industry.
Markets are buying the company's strategy to reduce leverage and USD exposure. During the last year or so, the stock had been moving almost only with changes in FX rates. It appears now that markets are actually looking into CX's (NYSE:CX) operations, as the company's efforts to reduce debt have had a positive turnout so far. The company still has a long way to go considering only 20-25% of its EBITDA is USD-denominated and close to 80% of their debt is held in that same currency. However, the US business is showing signs of improvement with EBITDA margins above 15% since 2Q15 (excluding 1Q16), a consistency that has helped the company mitigate currency exposure risks.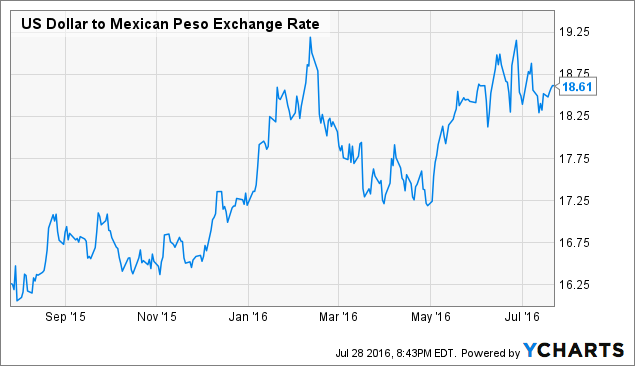 USD exposure is a concern for CX yet we believe it might be overstated. In 2Q16, interest expenses accounted for US$343 million and EBITDA generated by the US business was US$172 million. Assuming 80% of those interest payments were done in USD and 20% of SA&C EBITDA is in USD, then CX had an exposure during this quarter of roughly US$45 million. As we mentioned earlier, there is room for improvement, yet the situation seems manageable.
CX has delivered in terms of debt reduction and asset divestments; leverage ratios are the lowest in years also driven by higher profitability. The company's strategy to reduce debt continued to play out during the quarter with the IPO of Cemex Philippines (~US$500 mn) and a US$270 mn cash reserve created with the issuance of 8-year senior secured notes for EUR$400 million. As for asset sales, during the quarter CX sold assets of its US operations to GCC worth US$400 million.
The company's balance sheet now seems much healthier and most of it has come from increasing profitability rather than a decrease in debt. Consolidated funded debt to EBITDA is now below 5, all the way from 7.6 in 3Q10. The debt itself has decreased 12% in that period and the rest of the decline has come from increasing profitability, especially from the US market which at the time was posting negative EBITDA margins.
Despite the cut in infrastructure spending by the Mexican government, the private sector is supporting demand in the construction sector. On a seasonally adjusted basis, overall construction activity keeps growing even though it does it at a slow pace. In a year in which the government has announced multiple cuts to infrastructure spending we expected weaker numbers in terms of cement consumption and overall construction activity, yet private edification has held the sector. Industrial activity reported by INEGI shows (on a seasonally adjusted basis) a 1.1% YoY decrease in infrastructure activity in 5M16, which was offset by a 3.8% YoY rise in edification to reach an overall YoY growth of 2.4% for the sector. In addition, according to a monthly survey to construction companies, the public sector has spent almost two percent less relative to the same period last year, whereas private companies are up 1% YoY (in real terms).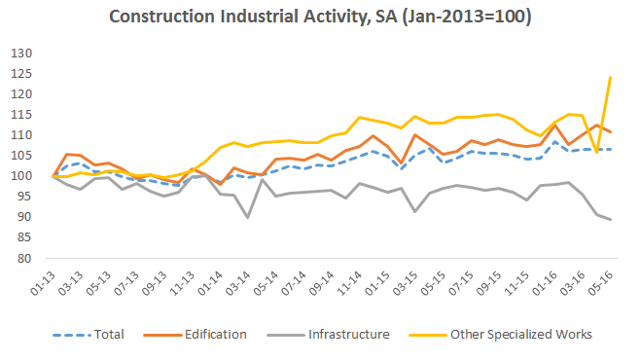 Cemex regaining share in Mexico despite the price increases. According to data provided by INEGI, Portland cement volumes in 2Q16 (information includes only April and May) increased 3.3% YoY in Mexico while Cemex posted a 12% YoY growth for the complete quarter in the same country. We regard this as positive for the company as it could appear they are regaining a portion of the market share they had been losing in recent years. We believe this has to do with competitors in the center of the country having reached high utilization rates. Moreover, Cemex was able to increase prices in USD despite the sharp depreciation of the MXN; a phenomenon related to the inelastic nature of cement demand in a market with little extra capacity.
---
LATAM PM's Take: CX stocks underperformed throughout 2015. Most of this came on the back of a deep depreciation of the Colombian Peso (NYSE:COP) and Mexican Peso (NYSEMKT:MXN), which put considerable pressure on theperception of CEMEX's ability to honor its long-term liabilities. Still, CX has rallied 39% YTD and we expect further upside, as the company trades at 9.7x TTM EV/EBITDA and we expect further profitability and efficiency.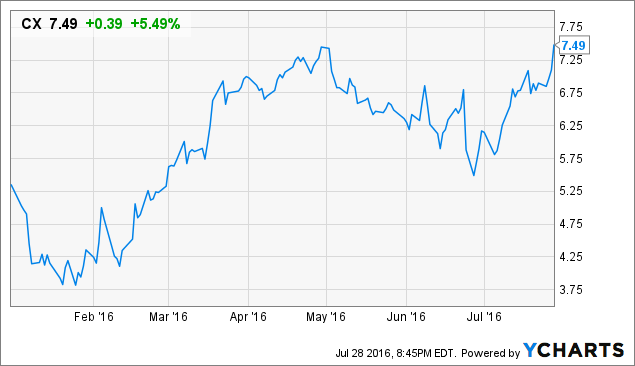 Cemex is targeting asset sales of $1 billion to $1.5 billion by the end of 2017 to restore its investment-grade, which was lost after the global financial crisis pushed the company to the brink of default. This quarter, we witnessed encouraging volume performance in the Americas; favorable pricing trends in local currency in all regions; and potential FCF generation, which enhances the company's financial position and strengthens balance sheet. We believe that 2Q16 earnings are in line with management targets and that the company is an attractive option to play NAFTA's benign macroeconomic cycle.
Author: Rodrigo Sánchez